SOPHISTICATED, YET UNPRETENTIOUS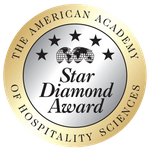 ABSOLUTELY AMAZING
Came here on two separate occasions; once for brunch and once for dinner. Both experiences were absolutely amazing. Brunch was light, delicious, and washed down with a few rounds of mimosas (not bottomless FYI).

Dinner was fantastic and had a more upbeat vibe. Our favorite drink of the evening was called I'm Sprung and it paired well with a variety of dishes as everyone who enjoyed it had ordered something different for dinner. I personally enjoyed it with my Tagliatelle Allá Scampi, sub the tomatoes for spinach if you'd like more greens lol. The shrimp in that dish are juicy and dripping with flavor.

Service was really great during both visits and I highly recommend them for group outings. Reservations are also easy to make and adjust.

Fredrika C.

SO HELPFUL AND ATTENTIVE
Showered my daughter the bride to be at Revel yesterday. We had a wonderful day! The food was delicious, the staff so helpful and attentive and Brittney and Francine so helpful during the planning process and during the event!
I am looking forward to having my next event there!!
Eggplant Chips, Banana Nutella French Toast, Chicken Milanese, Eggs Benedict, Burger, and Spring Rolls all delicious!!
Kelly B.

AMAZING FOR A BUSINESS DINNER
I had a last minute business dinner of 12 people at Revel last week and Jackie, the manager was amazing. She really saved the day by accommodating us and seating us promptly. The service, food and atmosphere was great and I will definitely bring more customers back, thank you again Jackie!!!!

Jennifer B.

WE LOVE THIS RESTAURANT
We held our daughters baby shower here and it was amazing! From the first phone call with Francine to our good byes at the end of our event, every aspect was handled with great precision. Our guests raved about the food, decor and the wonderful staff who didn't miss a beat the entire time. We love this restaurant for dinner and drinks as well. I highly recommend Revel for any occasion you may be hosting. They dot every "I" and cross every "T", they were a complete pleasure to work with. I look forward to having more events in the future. Thank you again Francine and staff. Special thanks to Michelle for all of her care and assistance.
Jo Anne S.

AMAZING (& INSTAGRAMMABLE!)
Came with a large group of 14 on a Saturday night at 6:30pm! We were seated pretty quickly due to having a reservation.

Wide array of speciality cocktails that our whole group enjoyed! I had the scampi, which was absolutely excellent - such depth of flavor and large shrimp. Other meals our group had was the lamb chops and pork chop, which was enjoyed.

They brought our a congrats Oreo cheesecake! So thoughtful. Wonderful service and such great ambiance especially for a special meal! (Instagrammable portions of the restaurant include neon signs and beautiful floral arrangements)

Janine C.

THANK YOU REVEL
Been coming to Revel for dinner for quite some time but yesterday was a total home run for our family. Look no further to plan a party/event with the help of the fabulous Francine Doukas and her ever accommodating staff. From the moment my husband and I met Francine I knew we were picking the right establishment. She couldn't be any more effervescent, professional, thorough and accommodating.
We hosted our daughters' impending baby girls Jack 'n Jill
Party....The decor was fun, beautiful, inviting and contemporary. All ages from 11-75 could not stop complimenting the party. The servers are on top of their game and friendly. The food selection is extensive and there is something for everyone's palate. A well oiled establishment....how refreshing!! Thank you Revel!!
Nancy M.

SO IMPRESSED, HIGHLY RECOMMEND
Last night was our first time here, we live about 40 min away! It was well worth the drive. The service we had was incredible! Our waitress, Hannah S., was sweet and attentive. The bus boys were also so attentive, our water was never empty and our food was wrapped quickly. The food was AMAZING. The minute we took a bite of the bread with ricotta and oil we knew we were in for outrageously good food. We had the crispy eggplant appetizer which was equally as delicious. For dinner we each had the skirt steak. I informed our server that I needed it cooked to the point of almost not pink due to being pregnant. She sweetly offered her congratulations and delivered food that exceeded my expectations. The steak was cooked perfectly for me and my husbands was perfect for him. It was easily one of the best steaks we've ever had. We ended up skipping dessert but will for sure be back and have it next time. Finally, as we were leaving my husband broke a glass (oops) but NO ONE blinked an eye or seemed frustrated. We were assured it was ok and they would take care of it. I am just so impressed, you don't find places like this often anymore. Highly recommend!
MaryLynn L.

A HIDDEN GEM
Hidden gem with great quality food and drinks. Definitely worth the trip to try it for yourself.
A A.

SOMETHING TO REMEMBER
I recently had my engagement party this past Sunday and it was amazing! We rented out the whole restaurant. Francine did an amazing job setting up the space and making it feel lounge like - not your typically setting of just standard tables everywhere. The staff was very attentive and extremely warm and friendly. It made me feel comfortable and allowed me to fully enjoy my event. To top it off, Everyone raved about the food and ambiance of Revel. I highly recommend hosting a private event here! Talk to Francine - she'll make your event something to remember!
Diana D.

A DELIGHTFUL EXPERIENCE
I recently had brunch at Revel, it was a delightful experience! The restaurant has a chic and modern decor that gives off a cozy and welcoming vibe. The ambiance was perfect for a weekend brunch with my friends and family.
Now, let's talk about the food. The brunch menu had an impressive selection of dishes that catered to different dietary preferences. From classic breakfast items like eggs benedict and pancakes to more exotic options like avocado toast with poached eggs and a seafood omelette, there was something for everyone. I ordered the Malibu eggs Benedict, which was cooked to perfection and packed with flavor. The portions were generous, and I was pleasantly surprised by the quality of the ingredients.
The drinks were also top-notch. I had a mimosa, and it was the perfect balance of orange juice and champagne. The coffee was excellent as well, and they offer a variety of tea options for those who prefer something hot.
The service was exceptional. The overall atmosphere of the restaurant was bustling but not too noisy, and it felt like a great place to spend a leisurely weekend brunch.
The prices were on the higher side, but considering the quality of the food and drinks, I thought it was worth it. I had a fantastic experience at Revel and would highly recommend it to anyone looking for a top-notch brunch spot and I will definitely be back.
Bianca A.

TERRIFIC
Super drinks and wine selection. Always a terrific time spending an evening at Revel. My firm and staff love Revel.
Joseph D.

PHENOMENAL
Where do I start??? This Restaurant Is Amazing, Phenomenal and Purely Delicious... when I tell you everything had flavor , seasoned so perfect .... The hostesses were truly amazing , food came out so fast and the pre fix menu was great from the beginning to the end ... let's talk about the set up ... location excellent, parking and the decor was so beautiful, out of a magazine ! I'm definitely going back asap.
Cheyenne W.

BEAUTIFUL SPOT
This place was great. Beautiful spot with a lovely bar scene. But the food was really great. Well executed. Tasty. Creative. Excellent, super crispy wings, delicious burrata ravioli on vodka sauce, melt in your mouth short ribs and mashed potatoes. Excellent dessert, coffee, and beverage list too. Really nice dinner.
Bill S.